GMS Cloud
Everyone is talking about the cloud. They have been for ages. But what is it? How can you get there? Is it right for you? Basically, it means having your software as a service. Nothing in-house or on-premise, but accessible anywhere. No overheads, and free from the strains of managing it yourself. We have helped many businesses take their first steps into the cloud space with GMS Cloud, our complete email solution, hosted by Amazon Web Services.
Access your email anywhere, in the office, at home, or on the move with GMS Webspace, our flagship mail client, and optimised for mobile use. Or have it come through a variety of clients such as Outlook or Thunderbird
The ability to share and manage schedules, contacts and tasks
Supports CalDav & CardDav synchronisation across multiple clients and devices
Microsoft Exchange ActiveSync to sync your calendars, contacts, and other personal data on your smart device.
Cloud storage with GMS Drive means that documents can be uploaded, shared and stored in the cloud.
GMS Drive app provides local access & sync of documents
Create, edit and share office documents in-browser.
Zero Hour malware protection included
Unlimited telephone and email support during business hours. You won't get support like this anywhere else
A constantly evolving solution that's always getting better
Plenty of assistance migrating your data over to the cloud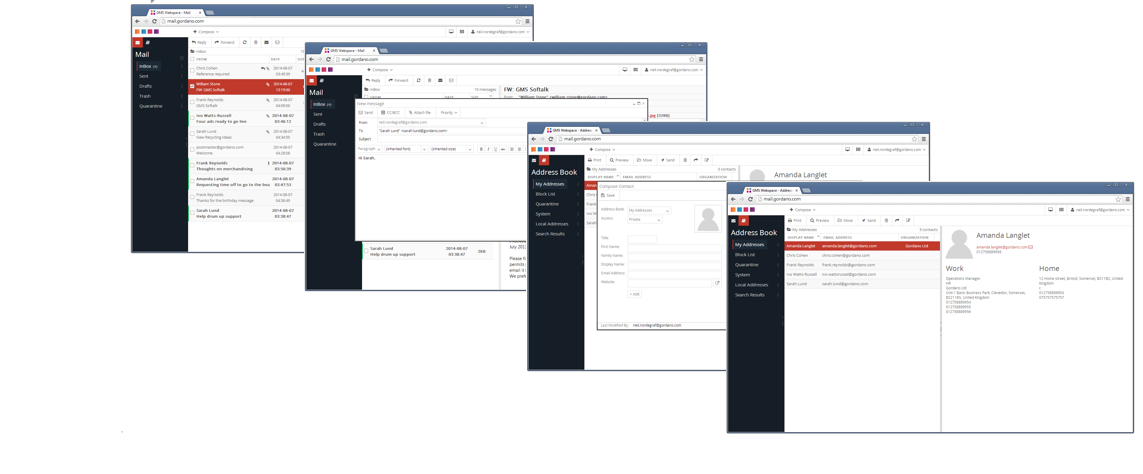 Trial GMS Cloud for free for up to 1 month, and get full support as you evaluate the service, with no obligation.
We recommend that all new GMS users trial the product first. Email solution implementations are customer specific, and it is important to us that we tailor the solution to fit your needs before you make any monthly or annual commitments.
Purchase any time during or after your trial.
All you need is a standard web browser such as Firefox, Internet Explorer or Chrome. The primary access method for Cloud is via GMS Webspace. Alternatively you may wish to use the service with Outlook (or another static client type, e.g.: Thunderbird). If you choose to use Outlook then you can also use the advanced groupware capabilities, such as sharing calendars, contacts, tasks etc. Groupware functionality is also available from the GMS Cloud webmail client.
GMS Cloud
From £

3
All the features, including telephone support
Let us help you get to the cloud
Available as annual or monthly subscription
Annual subscription available at the cost of 11 months!